Meeting Our Unique Transportation Needs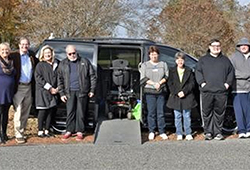 Generous gifts from a Maryland couple help meet the transportation needs of students and adults in our care.
Paul and Holly Fine of Easton, MD donated a wheelchair-accessible van and a motorized wheelchair to Benedictine. The multi-passenger van will be used to transport individuals with disabilities to medical appointments, vocational training, and recreational activities, and the wheelchair will be much appreciated by individuals with mobility issues.
"We wanted this vehicle to go where it is truly needed, to help as many people as possible," said Paul. Holly added, "Over the years, Paul and I have produced a number of national news features focused on people with disabilities. We know that transportation is just one of the many barriers they face on a daily basis, especially here on the Eastern Shore."
"Transportation is such an important part of our community-based model of care," said Barry Smale, former Director of the Benedictine Foundation. "We are so grateful for Paul and Holly's contribution.
The donated Toyota Sienna XLE and the top-of-the-line Quantum 600 motorized wheelchair will benefit many of the children and adults in Benedictine's programs for years to come.