A Father's Love ... a lasting legacy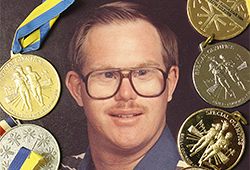 A father's love can go beyond what he ever imagined he could feel for his child. This was the case for James "Jim" Colburn, whose son, Joey, was born with Down syndrome in 1957. Joey's diagnosis at birth was a life-changing event for his father Jim, who was given the prevailing advice of the time: put Joey in a home and go on with your life.
Instead, Jim turned to his faith for guidance and strength, and called several Knights of Columbus friends for advice – they had children with disabilities and were in similar situations. When he asked them what he could expect with a child with disabilities, they told him to expect a lot of laughter and unconditional love.
Jim resolved to do everything in his power to make his son's life as productive as possible. His research led him to the Benedictine School, which embraced the things he wanted for his son – a place where Joey could learn to be self-sufficient and for them to continue to be a family. Joey was five years old when he arrived at Benedictine from his home in Annapolis. At that time, the school was in its infancy and Joey was one of the school's youngest residents.
Jim was athletic, and he encouraged his son to embrace the same active lifestyle. He was also an accomplished swimmer, and soon after Joey learned to swim at Benedictine, he began setting swimming records at the school.
In his lifetime, Joey won over 100 medals and ribbons while competing in the Special Olympics. In 1981, he was inducted into the International Swimming Hall of Fame, the first mentally or physically handicapped individual to be so honored. Photographs of Joey with world-renowned individuals are a testament to his accomplishments in swimming despite unique challenges.
After moving to the warmer climate of Florida in 1972, Jim continued to encourage Joey to be independent. According to their long-time friend and caregiver, Joan Norman, "Jim wanted Joey to be as normal as he could be. He even tried to teach him to drive a car, to give him that experience too. He never got his license, but they did share a love of cars."
Joan also said that Jim embraced what Sister Jeannette preached to all parents at Benedictine – help your child to become all they can be. Jim did just that, helping Joey get a job when he was old enough, to teach him about all the responsibilities associated with having a job and earning an income. Joey was a groundskeeper at his local church and school in Ft. Lauderdale, FL. He also cleaned classrooms and ushered at the church, riding his bike the nearly four miles to work every day, with Jim following in his car. In his 26 years of work, Joey never missed a day.
Jim saved money for Joey's future care, creating a special needs trust which would support Joey until his death. When Jim's health began to deteriorate, he planned for Joey's continued care by designating Joan as Joey's permanent caregiver once he was gone. Joan states, "Jim had a tremendous sense of responsibility, and he made sure Joey had everything he needed and someone to look after him when he was gone." Jim's wishes were for Joey to continue to work and live in his home and in his community.
After Jim passed away in 2013, Joey decided he didn't want to go to work anymore. He had dealt with his own health issues beginning at age 50, and he died at the age of 60 in 2017. After Joey's death, The Benedictine Foundation became the recipient of a $3 million bequest from Jim, the largest single gift in the history of Benedictine. That same year, Joan Norman received the Cornerstone Award on behalf of Jim and Joey, which acknowledges donors making gifts of $1 million or more.
Barry Smale, the Benedictine Foundation Director at that time, commented, "This bequest is significant because Jim Colburn recognized the need at Benedictine today to care for children who are much more severely disabled than his son Joey. Bequests of this type enable Benedictine to continue to meet the needs of its changing population. We are grateful for his foresight to plan for this gift and to make us its recipient."