Timothy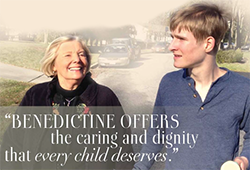 It's every grandmother's wish-to see her grandchild happy and content.

This was not always the case for one of our donors, Bette Kenzie, whose grandson Timothy, was non-verbal and diagnosed with severe autism at age two. When her grandson became an adolescent, his autism began to create challenges that his parents could no longer handle at home.

Bette knew of Benedictine and after encouraging her daughter and son-in-law to visit, Timothy was enrolled in the school at age 14. She remembers that he was obviously happy there and wonderful changes began to occur – he began to communicate through an electronic device and participate in social events as part of the bigger Benedictine community. Bette commented, "Benedictine offers the caring and dignity that every child deserves. The school has a caring, personal approach. The children here are in a place where there are appropriate activities – things that are geared to them and their needs." She added, "The school has lived up to Sister Jeannette's goal for Timothy to be everything he can be. A major addition to his abilities is to be able to swim and be safe in the water. This has given him and his family great joy!"
At age 20, Timothy transitioned into one of Benedictine's group homes. While there, he learned important life skills, with the expectation that when he turned 21, he would graduate into a Benedictine adult group home and work in the school's vocational program. But Timothy's future housing was uncertain, due to the limited number of openings in the adult homes at that time. This prompted Bette, a longtime contributor to the school, to help underwrite the purchase and furnishing of a new group home for young adults in 2014.

Bette commented, "Benedictine is in my heart. Group homes play an important role in the lives of these children – giving them a safe haven to be themselves while also giving families peace of mind. Supporting education has always been one of my passions because it is where you can do the most to change people's lives." She added, "This gift will enable Timothy to stay in the Benedictine community and will help other families going down the same challenging path. It becomes a community gift."

Bette recalled that during one visit to see Timothy in his group home, she brought him cookies to share with his housemates. He sat next to her on the sofa and held her hand. He also gave her a good-bye hug as she was leaving. She stated, "This was only the second time he had ever initiated affection like this. It showed me that Timothy is happy and content. He was reaching out and sharing his happiness with me."

Bette concluded, "This journey has been personal. It has touched my family's life in profound ways. I have been blessed over the years and it is now payback time. That is what makes this so gratifying.

I hope my gift will plant the seeds of giving for others who may want to support Benedictine – reaching out to help other families whose children, grandchildren, nieces and nephews need and deserve the same caring and dignity."