EVERY CHILD IS UNIQUE and is treated as an individual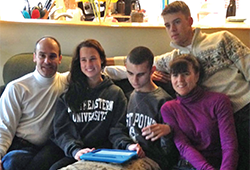 "I doubt Benedictine's program could be duplicated anywhere else in the country. There is a culture of caring here that is unique," comments William C. Doukas, M.D., a Benedictine parent and one of the newest members of the Benedictine Board of Directors.
"Benedictine is about helping people reach their highest potential and it's a place where all people are treated with love and dignity," Bill adds, noting that his family has its own personal relationship with Benedictine through his son, Zack, who entered Benedictine's residential school program at age six.
Zack, who is now 18 years old, was born with cerebral palsy, intellectual disabilities and autism?resulting in significant cognitive and physical deficits.
Bill recalls, "As an orthopedic surgeon, it was difficult to see him at age six to nine months not meeting his developmental milestones. It is something you never expect to experience as a parent. It is ?off-the-scale' hard and it took a long time to come to terms with it. Over the years, my wife, Cindy, and I have found that all we can do is love Zack and meet him where he is."
Bill explains how the school's expectations for its students have helped his own son make the progress he has made.
"Benedictine has expectations of all of its students. Every child is unique and is treated as an individual and encouraged to meet his or her own potential."
Zack has excelled at the school, learning to communicate and complete tasks through the school's life skills training program. Bill states, "He has developed his own language through his ?tech talk' devices. He has really mastered how to use them enabling us to communicate with him."
Zack has made many special friends over his 12 years at Benedictine?particularly with his dorm mother, Sister Mary Agnes. Bill comments, "The most incredible people I have ever met work at Benedictine?everyone who works for Benedictine wants to be here. Sister Mary Agnes is one of these people. She is 80 years old and is still active and going strong. She loves the kids here, and they all love her."
When Zack comes home, he fits right into family life with the other Doukas children, college-aged twins, Nicki and Jim. Nicki, inspired by her brother's limitations, is pursuing a career in physical therapy, while brother, Jim, pursues a military career at West Point, following in his father's footsteps. (Bill served for 24 years in the United States Army culminating as a Colonel in the U.S. Army Medical Corps and serving as chairman of the Department of Orthopedics and Rehabilitation at the Walter Reed Army Medical Center.)
While Bill and Cindy have been actively participating with the school for some time, he was eager to give more and welcomed the opportunity to serve on the Benedictine Board of Directors.
As a newly-elected board member, Bill hopes to help with longterm planning for the school to ensure that families like his can continue to benefit from Benedictine's programs and services well into the future.
He says, "I am honored to be among the talent who has been assembled on the board. I hope that my previous leadership positions and understanding of what motivates organizations will enable me to be a part of ensuring the longevity of the school and its unique culture of caring."