Partnership with Neumann University Grows Future Teachers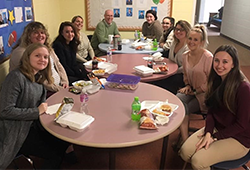 Neumann University, located just south of Philadelphia, is a private Catholic co-educational university based on the Franciscan tradition. Historically, Neumann placed its education majors at local parochial, public, or charter schools for their individual field study experiences.
Neumann's collaboration with Benedictine began in 2014, when 12 students visited the campus for three days of generalized experiences over the college's spring break. Leonard J. DiPaul, Ed.D., Assistant Dean of Education and Human Services at Neumann, and his colleague, Daniel McKee, Ed.D., a professor at Neumann, worked with Benedictine's Executive Director Scott Evans, to kick the program into gear.
The program has since grown into a significant partnership for the two schools, as well as an annual experience for junior and senior education majors.
"Having special education as a major at our college, we wanted students to be aware of the whole spectrum of special needs education. Benedictine offers our students the opportunity to see a year-round residential program that has a broad array of services for those with intellectual disabilities, multiple disabilities, and autism," notes Dr. DiPaul. "This immersion experience also enables our students to engage in service in their disciplines, an important core value of the university, and to reflect on these experiences relative to aspects of professional, personal and spiritual growth."
Now, each January at the end of their winter break, a dozen Neumann juniors and seniors visit Benedictine. These students stay on campus, dine in residential group homes, tour the school's facilities, and spend time in student classrooms and residences working with individuals. Word about the Benedictine field experience has spread among the students over the years, making it a highly coveted opportunity sought out by Neumann's upperclassmen.