The Bond Between Two Sisters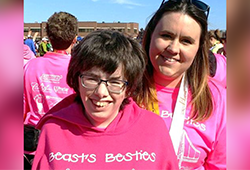 The love between Caila and Ashley Heffernan is like that of any sisters. They love to hang out together and take selfies together. When Ashley decided she wanted to run in the November 2015 10k Across the Bay, her sister Caila was delighted because the run benefitted the organization that is her home – Benedictine.
Caila joined Benedictine's Adult Services program when she turned 21. Prior to that time, she lived at home with her parents and attended Queen Anne's County Public Schools. Today, she lives in one of Benedictine's neighborhood group homes and participates in Meaningful Day Services that include a Personal Enrichment Program and Benedictine Businesses. Ashley commented about her sister, "The amount she has grown and matured since joining the Adult Services program is amazing. She loves working in the greenhouse and the flower shop, and living with friends has really made her thrive. She is loving life there."

Ashley stated that the change has also been wonderful for herself and for her parents, as they had been Caila's caregivers all of her life. Each of them has been able to worry less about Caila's well-being because Benedictine's Adult Services program has given the family a sense of normalcy.

Benedictine was one of the three major charities supported by the run that year. Ashley had run a few 5ks before, so she decided to spend that summer training for the 10k with ten of her friends. Some had been law students with her at the University of Baltimore School of Law, and others lived in her home county, Queen Anne's County. Ashley commented, "We wanted to work for a charity that meant something to us personally. My friends have known Caila for years and they wanted to support Benedictine, too."

When it came time for Ashley to name her running group for the race, she immediately thought of her sister. Caila's nickname, "The Beast", fit perfectly so "Beast's Besties" ran the race in her honor. Ashley said, "Caila was so excited that we were running for her and for Benedictine. We all wore pink shirts that day to make sure she would see us at the finish line."