Adult Services Program Addresses Cycle Of Life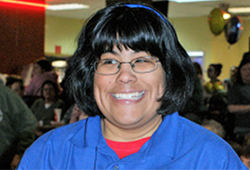 A traditional rite of passage upon reaching adulthood is leaving home and living independently, but this transition can be challenging for adults with developmental disabilities.

Benedictine's Adult Services program helps meet the multiple needs of persons ages 21 and over with developmental disabilities who have transitioned into independent adult living. By providing high quality residential and vocational services to more than 100 adults living and working in Maryland, Benedictine has helped set the standard for a nurturing, compassionate environment in which adults with developmental disabilities can thrive.

"Benedictine has been a godsend for our daughter, Andrea," says Don Jacques of Edgewater, Md.

"When she neared age 21, we knew we had to plan for her future and visited a number of facilities. What attracted us to the Benedictine program is its comfortable, clean homes, well-trained staff, and safe work environment."

Don adds, "With multiple developmental disabilities and expressive language delay, Andrea had behavioral issues which could be challenging. After living in her current group home and working in her jobs, she can now comfortably go out into the community with us and can enjoy herself when visiting us."
Andrea, now in her 40's, works at Benedictine's Busy Bee Cleaning Service part time and spends her remaining time in the Employment Resource Center. Resource Center staff help Andrea build job skills and complete community trial visits in areas that interest her, and she also works on her goal of building her typing skills.
Group home residents are able to live independently with the support of the Benedictine family. Andrea and her housemates do many of the routine things we all do, including menu planning and grocery shopping, making trips to the library or the bank, bowling, celebrating birthdays and holidays, and having company.
Remarking about Benedictine living, Andrea said, "I like socializing with my housemates, especially at meal time and dining out."