Benedictine's Healing Touch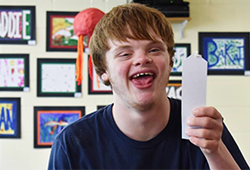 Hearing the words, "We can help him" still gives Kim Miranda chills when she recalls first bringing her son, Luke, who was then five years old, to the Benedictine School. For Kim, as with many other parents of children with the diagnosis of Down syndrome and Autism who are nonverbal, the frustration of not being able to help your child is overwhelming.

Luke was born with Down syndrome, and by age two, doctors began to suspect he was developing other serious disorders such as Attention Deficit Hyperactivity Disorder (ADHD) and possibly Autism. By age four Luke's behaviors had become more unmanageable, and he was showing regression in all areas. At that point, Luke visited Kennedy Krieger and was formally diagnosed with Autism. Kim recalls, "He was so hyper and had figured out many different ways to escape from the house. We couldn't help him."

Luke's behavior was also affecting the other children in the family. Kim comments, "The other three children would melt into the woodwork when a crisis happened with Luke. Everything revolved around getting through the day with a special needs child."

The family began to look into the idea of a residential facility for Luke. Two doctors, independent of one another, recommended Benedictine. Kim remembers what a hard juncture it was realizing that she needed to take her five-year-old child to live somewhere else. She states, "The admissions staff gets how difficult this process is for parents. I felt they really cared and that they cared about me. The entire Benedictine community was behind me."

At the time, Luke was one of the youngest children to enter Benedictine. He came in the summer for one month to try it out. Kim recalls crying when leaving him and that Sister Mary Agnes reassured her that there were mothers who cried every time they left their children at the school. When Kim came to get Luke one month later, he and his teacher were sitting at a table with a puzzle. He was able to show Kim what he could do.

She states, "I couldn't reach him, but they knew something I didn't know and were able to reach him." She adds, "That is when I said to myself, "I don't know what they do at Benedictine, but it is special. They care about the heart of my child."

As time went on, Luke began to communicate even more with his family. His voice activation computer enabled him to speak, and eventually, he began to call Kim "Mom" with his own speaking voice. The schedule he keeps and jobs he does at Benedictine have given him a sense of pride. As a teenager, going home to spend a few days with his family, he liked to do cleaning jobs around the house. He also used communication applications on an iPad and Boardmaker to show the family what he is feeling.

Keeping a routine is very important to his family stays. Benedictine continues to give the family coping strategies to help manage Luke at home, which Kim has found to be very helpful over the years. She comments, "Benedictine believes in the relationship between parents and children. Having a severely handicapped child can shatter your home. Once Luke could function in a structured environment, we got our family back." Since then, Kim has had another baby and Luke has been able to share in that joy.

Kim recalls what former Directress Sister Jeannette Murray, O.S.B., once said about raising a special needs child, "See them for who they are, not for who they could have been."

She adds, "There is a tender caring for these children. They have done this before and it's their calling at Benedictine. It has given us hope for the future and for that, I am eternally grateful."