Opening Doors to the Business World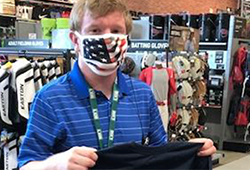 In October 2020, Benedictine celebrated the 75th anniversary of National Disability Employment Awareness Month. "Dignity of Work", one of Benedictine's core values, has been a cornerstone of our services for more than 60 years. The specialized program offered through our Community Services and Training Center in Easton is designed to assist qualified students with disabilities ages 14 to 21 who:
Are in high school or have graduated from high school
Have an Individualized Education Program (IEP) for their disabilities
Are living with parents or in the community
Benedictine is a licensed provider and partner with the Maryland Division of Rehabilitation Services (DORS). With the support of community partners, individuals benefit from skills development as well as on-site retail, hospitality, customer service and office skills training. This focused training provides:
An introduction to the program for transitional students
The opportunity for current adults to enhance their skill set
Advancement opportunities to those already working competitively in the community
Peter is new to the Shore. He came to Benedictine through our partnership with DORS, and participated in the highly successful eight-week training program offered through Benedictine. At the conclusion of the program, each student participates in a graduation ceremony and receives a certificate acknowledging their achievement.
With the help of Benedictine's Employment Specialists and Job Coaches, Peter received the training and guidance that enabled him to apply, interview and successfully complete orientation for his current position at Dick's Sporting Goods in Easton.
Benedictine's community partners are a key factor in the program's success. They provide a variety of opportunities for students to acquire hands-on, quality work experience, and they enable more than 40 individuals with developmental disabilities to work in their local community.