Planning for the Future: Special Needs Trusts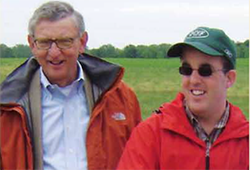 Living "in the moment" may be a mantra of parents of special needs children.

Often overwhelmed by day-to-day decisions and activities, parents may feel intimidated when thinking about "tomorrow" and providing for their children's future should they no longer be here to care for them.

Sanford "Sandy" Morhouse, a retired attorney, is the parent of a Benedictine adult, Skip, who has been at Benedictine School since he was eight years old. He has lived in one of Benedictine's adult homes in the community and worked at the school since the age of 21.

In thinking about his son's future at Benedictine, Sandy used early estate planning to set up a special needs trust for Skip. He comments, "Every parent has the issue of providing for their children when the parents die. Parents of special needs kids realize the unique responsibility they have in deciding the right option for them."

There are many planned giving options available when setting up special needs trusts. Sandy encourages parents to think in terms of life insurance policies or variable annuity policies to help fund their children's trusts, paying over time or paying in a lump sum with cash. He adds that extended family members can also donate to these trusts through their wills or can have their life insurance policies go to the trust upon their death.

Items of daily living, such as social activities, clothing, and transportation are often not provided for by government sources. Thus, Sandy added an option to his son's trust to pay for services to care for his son if the trustee was not satisfied with his son's current residential care. Trusts can also be set up so that other children in the family can be the "eyes and ears" of the trust, working with the trustee to ensure that their sibling has all of their needs met.

Trusts can also be designed so that, after the special needs person is deceased, the remaining assets, or the residual trust, go to the other children in the family and their heirs or to the institution from which the special needs person benefitted. An institution like Benedictine can be a direct beneficiary of the trust.

Sandy reflects, "No one ever wishes to have a special needs child, but when you draw that card, it adds a tremendous amount to your life. Skip has been a special blessing to our family as has this school." Sandy's passion for Benedictine has been evident in his role as a member of the Board of Trustees of the Foundation. He is also an active donor to Benedictine and a member of the Emerald Society, Benedictine's legacy giving society for donors who have made gifts via their will or other types of estate gifts.