More Than A Love Of Motorcycles And Cars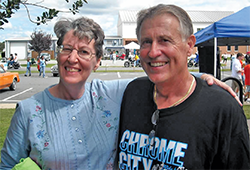 Spud Blake has a heart for Benedictine. A retired deputy chief of police for the Prince George's County Police Department and former chief of staff for the Maryland State Police, Spud founded Benedictine's Chrome City Ride 14 years ago after running a similar event on the western shore.

Over the last 14 years, the event has raised $1.7 million for Benedictine from bikers, classic car enthusiasts and sponsors of the event and has grown to include registration locations in Seaford, Del., Easton, Laurel, Salisbury and Annapolis.

Spud recalls, "I co-founded the statewide Concerns of Police Survivors (COPS) Ride with Colonel David B. Mitchell, the superintendent of Maryland State Police, and John 'Rodney' Bartlett, president of the Maryland State Fraternal Order of Police, and chaired that event for eight years. My law enforcement friends who worked with me on the (COPS) event were aware that my sister, Barbara, is a resident in a Benedictine home and asked me why we hadn't done a similar event for the organization," says Spud, a member of the Benedictine Board of Trustees and chair of Chrome City Ride.

That spark of an idea became a flame after Spud presented the idea to Benedictine's then Executive Director Sister Jeannette Murray. She loved the idea because the event involved the kids and participants could actually come and see Benedictine, the beneficiary of the Ride. It eventually became her favorite event of the year.

"It has been very heartwarming for me to see what the community does for Benedictine during this event. Each year more and more parents and loved ones get involved and it's nice for them to see this support," Spud comments.

Spud's family's journey to Benedictine began in 1999 when he brought his mother to see the campus after the urging of a family friend whose daughter was at Benedictine. Spud's younger sister, Barbara, is developmentally disabled and was being cared for by his mother, who was then in her 70s. The family needed to make decisions about Barbara's future and Benedictine fit the criteria as they began to search for Barbara's next home.

Spud reflects, "We had looked all over the country. Benedictine is first-class. The residents of Benedictine are treated with so much dignity. It has been a fantastic place for Barbara and for our family." After Barbara arrived at Benedictine, Spud's mother immediately got involved and struck up a friendship with Sister Jeannette. The two became friends immediately and ironically, died within two months of one another in 2013. Spud remarks, "Sister Jeannette rode in on a motorcycle for the Chrome City Ride. For me, this ride honors both my mother and Sister Jeannette, who left a tremendous legacy at Benedictine."

One of Sister Jeannette's dreams was to have a place for individuals that would take them into their senior years. For Spud's sister Barbara, this means living and working in Benedictine's Adult Services Program. Barbara, now 58, lives in a group home in Ridgely and works at Sweetly Made, the Benedictine retail store in Denton, and in other employment positions at Benedictine.

For Spud, it's the peace of mind he and his family have knowing that Barbara is safe and enjoying life at Benedictine. He comments, "I am blessed to be a part of all of this."