Benedictine School Takes An Entrepreneurial Approach To Learning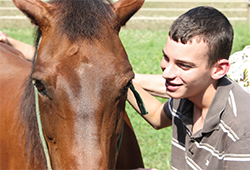 Walking through the Benedictine School, you may see Tai Chi being practiced, juggling instruction, iPads being used to communicate, or students working in the Healthy Way Cafe. These are all instructional methods employed by Benedictine staff to teach students functional academics and leisure, independent living, and coping skills so that they can access the communities where they live in new and exciting ways.

Lorraine Slama, assistant principal and a special education teacher at Benedictine, now in her 28th year at the school, comments "Benedictine is different in that we tailor our teaching to the individual needs and interests of each of our students. We can be both adaptable and flexible in our approaches to teaching." She adds, "The daily successes that our children have help to transform them and their communication and social skills."

As a certified recreational therapist, Lorraine has used a number of creative approaches. She references finding a child's passion for something, like an interest in dinosaurs, horses, or photography, and using that interest to help him or her connect to the world.

"Our program is highly individualized, which is true in only a minority of residential schools."

She recalls teaching juggling to Benedictine students to help improve their reading scores. The students in turn taught juggling to other school children which helped improve their own self-esteem. One of the school's most interesting programs is "Learning Independence for Everyday Skills (L.I.F.E.)" and its Healthy Way Cafe-a snack bar staffed by Benedictine students. The Cafe provides healthy eating options for Benedictine's staff while teaching Benedictine students communication and social skills, along with vocational skills like money handling. Some students made aprons for the Café, which taught them cutting and sewing skills.

Lorraine adds, "The students coming to Benedictine today have more behavioral challenges and need more guidance. Because these students do not have a lot of choices in their lives, we create a teaching environment which gives them choices and empowers them."

Computers and individual IPads are part of the up-to-date technology at Benedictine which helps students communicate what they need, especially for children who are on the autism spectrum. Benedictine's "Structured Teaching Approach to Readiness Skills (S.T.A.R.S.)" utilizes assistive technology to encourage independence and increase a student's readiness to learn. The Pictello, an IPad program, enables students to speak into the IPad, decreasing their frustration and helping them access learning, while SMART Boards provide interactive programs that help students enjoy learning more.

In addition to technology, classrooms incorporate relaxation techniques like Tai Chi and acupressure. Classical music and lavender diffusers help provide a calm and positive environment for learning. Julie Hickey, principal and education director at Benedictine, adds, "Our program is highly individualized, which is true in only a minority of residential schools."

Benedictine's curriculum is an extension of Maryland's public school curriculum, meeting the Maryland Common Core State Curriculum Standards. Benedictine's Unique Learning System aligns with the Common Core and is modifiable to students at any level. The school, however, goes beyond the traditional education needs of its students. As a residential facility, Benedictine carries the strategies used in the classrooms into the residence halls to reinforce approaches. Behavior plans are always adapted to the current needs of the students and change as the students change. Parents of children who are not residents at Benedictine are also provided with behavior plans to reinforce strategies at home.