Adult Services Program Addresses Cycle Of Life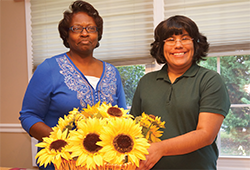 One of the rites of passage upon reaching adulthood is leaving home and living independently. This transition can be challenging for adults with developmental disabilities.

Benedictine's Adult Services Program helps meet the multiple needs of persons ages 21 and over with developmental disabilities who have transitioned into independent adult living. By providing high quality residential and vocational services to more than 100 adults living and working in Maryland, Benedictine has helped set the standards for a nurturing, compassionate environment in which adults with developmental disabilities can thrive.

"Benedictine has been a godsend for our daughter, Andrea," says Don Jacques of Edgewater, Md.

"When she neared age 21, we knew we had to plan for her future and visited a number of facilities. What attracted us to the Benedictine program is its comfortable, clean homes, well-trained staff, and safe work environment."

Don adds, "With multiple developmental disabilities and expressive language delay, Andrea had behavioral issues which could be challenging. After living in her current group home and working in her jobs, she can now comfortably go out into the community with us and can enjoy herself when visiting us."

Andrea, now age 35, works at Benedictine's Blossoms Garden Center and the Training Center during the day and lives in her group home in Easton, Md. She remarks about Benedictine living, "I like socializing with my housemates, especially at meal time and dining out."

Don, who is also a member of Benedictine's Board of Directors, recently whole-heartedly endorsed Andrea's lead house counselor Shirley Benson, who was nominated by her peers for the 2015 Sister Jeannette Murray Award. Shirley received the 2015 award at this year's Spring Benefit and was honored for exhibiting all of Benedictine's values in her everyday work. Shirley joined Benedictine in 1993. As a lead house counselor, she provides the individuals in the group home where she works with support for daily living, including nutrition, personal hygiene, finance, and transportation. Shirley comments, "The residents enjoy doing the things you and I enjoy doing-planning menus, grocery shopping, going to the bank and library, celebrating birthdays and having company over."

"I am like a surrogate mom. When we grow up, we are supposed to leave home. The residents here have the best of both worlds-they are living independently with us, but have the support of a family. Everyone at Benedictine works closely together-working with the special needs population takes a team effort."

Shirley started work as a floater counselor, demonstrating her willingness to work in all of Benedictine's homes at any given time. She views her current position not as a job but as a lifestyle, relying on her personal faith along the way.